Oxytétracycline Hcl Injection

L' oxytétracycline est un antibiotique à large spectre d'action bactériostatique contre un grand nombre d'organismes Gram-positifs et Gram-négatifs, qui est généralement utilisé pour les bovins, les moutons, les chèvres et les chiens. L' injection d'oxytétracycline est une injection intramusculaire pour bétail: 0.05-0.1ml par kg de poids corporel. L' injection d'oxytétracycline n'est pas recommandé pour une utilisation chez les chevaux, les chiens et les chats et ne pas utiliser le produit chez les brebis produisant du lait destiné à la consommation humaine.
Composition: 5%, 10% et 20% (par 1 ml contient 50 mg d' oxytétracycline, 100 mg ou 200 mg)
Les indications:
Oxytetracycline Hcl Injection 10% est dans les infections des voies respiratoires et urogenital, canal gastro-intestinal, et les tissus mous; dans des conditions septiques; dans les infections bactériennes secondaires, dans les maladies virales causées par des microorganismes pathogènes sensibles à l'oxytétracycline (colibacillose, salmonellose, pasteurellose, leptospirose, listériose, bronchopneumonie, actinobacillose, anaplasmose, érysipèle porcin); dans le syndrome de mastite et de trachéotomie (MMA) chez les truies; dans la métrite, la mastite, les états postopératoires, l'entérotoxémie, la pyélonéphrite, le tétanos, la pourriture du pied, l'œdème malin, la polyarthrite infectieuse, la spirochétose, etc. ), et les oiseaux.
Contre indications:
Animaux présentant une insuffisance rénale; animaux gravides; animaux nouveau-nés.
Ne pas appliquer sur les jeunes animaux pendant la période de développement des dents (cela peut entraîner une coloration brune des dents). Ne pas administrer par voie intraveineuse aux chevaux, aux chiens et aux chats.
Il n'est pas conseillé d'être utilisé en même temps que les chimiothérapeutiques à activité bactéricide.
Posologie et administration:
Pour l'injection intramusculaire, sous-cutanée et lentement intraveineuse.
| | |
| --- | --- |
| SPECIES | Oxytetracycline injection |
| Large ruminants and horses | 300-500mg/50 kg b.w. (in anaplasmosis – 1000mg/ 100 kg b.w.) |
| Sheep and goats | 200-300mg/50 kg b.w. |
| Pigs | 50-100mg/10 kg b.w. |
| Dogs | 100mg/10 kg b.w |
| Cats | 10mg/kg b.w. |
| Fowls | 30-50mg/kg b.w. |
| Minks and foxes | 200mg/10 kg b.w. |
Les doses plus élevées de chaque échelle de dosage sont destinées aux animaux plus jeunes de l'espèce respective.
La préparation doit être appliquée une fois par jour pendant 3 à 5 jours.
Temps de retrait:
Viande: 10 jours Lait: 3 jours.
Attention:
Tenir hors de la portée des enfants.
Emballage:
Bouteille d'ampoule: 5ml, 10ml.10ampoules / plateau / petite boîte. 10box / boîte du milieu. Ou personnaliser.
Bouteille de moule: 5ml, 10ml, 50ml, 100ml.
(Flacons multidoses de 100 ml)
Espace de rangement:
Dans l'emballage d' origine, bien fermé, dans des installations sec et bien aéré, à l' abri des rayons du soleil à
bet température ween 15 ℃ et 25 ℃. Ne pas congeler. Protégez du gel.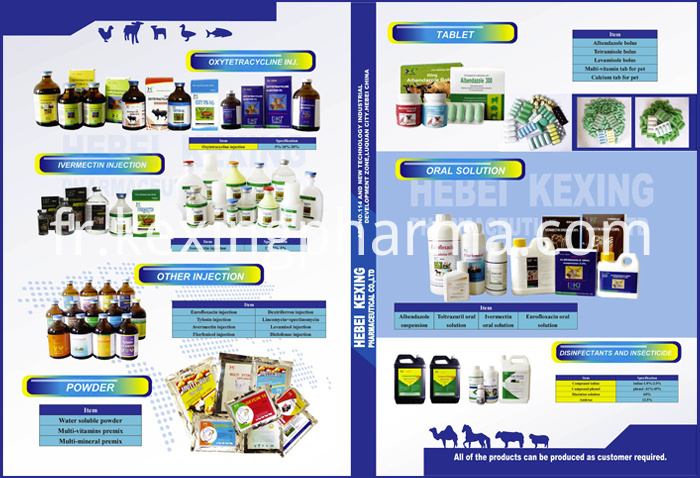 Hebei Kexing Pharmaceutical Co., Ltd.

Personne-ressource: Mr. kenneth Yang
Tél: 86-311-80677112
Télécopieur: 86-311-80677113
Adresse: NO.114 Zone de développement industriel de haute et nouvelle technologie Luquan, Shijiazhuang, Hebei
Groupes de Produits : Drogues antibactériennes animales > Oxytétracycline